4 Social Media Tools That Will Improve Productivity in 2012
As we begin the New Year, many organizations have begun to implement their improved social media strategies to better connect with their audience. We have already witnessed the growing spotlight placed on photo and video sharing with the additions of Instagram and SocialCam, and according to eMarketer, social media budgets will rise to $8.09 billion in 2012.
Intel's social media strategist, Ekatrina Walker, believes brands will become better prepared to embrace real-time communication in 2012. Jason Falls, yet another reputed social media strategist, believes that companies will have better business driven strategies for the New Year.
As you begin the year, equip yourself with social media tools to better manage your social campaigns. The following is a list of reliable social tools that you may have been missing.
TwitterFall
TwitterFall lets you monitor keywords for all of your clients in one platform. This dynamic, multi-tasking tool displays an organized stream of real-time information for hashtags and brand mentions. It also allows you to target information from specific geo-locations. A major benefit TwitterFall has is the ability to show you posts from all Twitter users, allowing you access to a much wider scope of information.
Twitterfall has improve my effectiveness when covering client conferences in real-time. At Dell World 2011 I was able to virtually connect with an audience that was 1,500 miles away. While watching a  live streaming video I was able to tweet quotes from interviews, announce guest speakers, and follow the most popular hashtags. With Twitterfall I was able to view and retweet complimentary messages all from Twitterfall's friendly user interface. By following the trending hashtags from the event I was also able to drive traffic to my clients websites by tweeting relevant articles my clients had written. These timely messages helped emphasize the growing presence my client has in the digital news space.
HootSuite 
HootSuite is a recognized social media tool that can assist with scheduling social messages on different mediums such as Twitter, Facebook, & LinkedIn all on one user interface. The fact that you can plan the release of messages hours, weeks, even months, ahead of time saves a great deal of your time and makes this tool a favorite among social media marketers.
Hootsuite has been a time saving tool for me because I am asked to create a calendar of social messages monthly. After I have created tailored messages, and crafted engaging questions to ask my clients audience, I then am able to insert these messages into Hootsuite in advance. If I know that my client is running a certain campaign or special in the next month it makes sense for me to create a message ahead of time so I can focus more difficult tasks on a day to day basis.
By using Hootsuite for scheduling I am also able to gain the approval from my client that my messages are aligned with their brand and overall image. This tool truly helps streamline my social tasks.
Social Mention allows users to monitor the most popular social platforms such as Digg, Twitter, YouTube, Facebook, Flickr and more. This free tool also scans the internet for your keywords, hashtags, and trend topics in Google search results and Yahoo News. It's ideal for monitoring a client's brand and seeing where their audience is.
Social Mention has been a valuable tool for me when monitoring brand reputations of my clients. When I insert a company  name into the Social Mention browser I am able to record any instance of customer dissatisfaction and report this to my client. Although this is not required from our clients, it gives them a great feeling when we can help them resolve these issues and improve their customers experience.
Raven Tools
With this social media tool you will be able to collect real-time results from several popular social networks. Raven Tools monitors multiple languages and helps you keep a close watch on your competition. With Raven Tools toolbar you can watch brand mentions live from different mediums.
The Raven Tools social toolbar is a neat tool that helps me track the members of my client's team. At any moment I can see which of my clients has posted a social message from their personal profiles. If one of these team members mentions the company brand I'm following I can grab that information and re-post it on another social platform. This process is extremely powerful as it creates a consistent message throughout the entire company.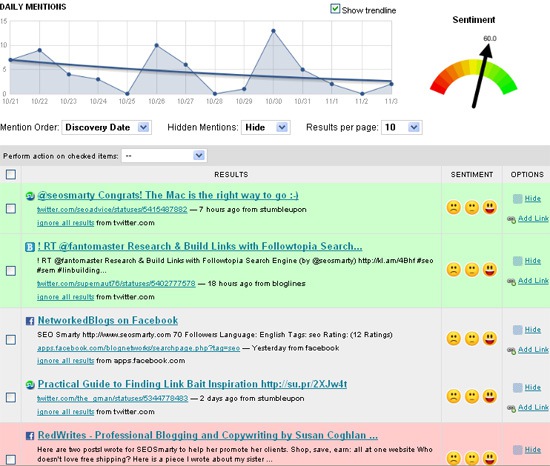 Planning an SEO strategy is becoming more important as businesses realize the potential benefits of connecting with their customers in real-time.
With clear intent and the proper social tools in place you can be organized and ready to handle various volumes of keyword mentions, and schedule important messages to better manage your time. By equipping yourself with quality tools you will be able to witness more, and help your clients more than ever. With the New Year in full swing I wish you the best in your social media endeavors.