How "Stranger Things" Can Make You a Better Content Marketer
If you're a child of the 80's, you grew up with the classics: ET, Goonies, Alien, Close Encounters of the Third Kind, etc.  You know…the type of stuff you rented at the video store and watched at sleepovers when you were hyped up on Pepsi, Reese's Pieces, and Doritos.
Chances are you've watched these old faves over and over and over again.  So you're probably as psyched as I am about the new show on Neflix, Stranger Things, a weird, retro throwback to the movies of our childhood, mixed in with a little X-Files/Twin Peaks vibe.
Looks super creepy, right?  It is.
Let's take a look at some of the reasons why this summer's biggest thriller can help you to become a better content marketer.
You didn't know that was a thing, did you?
(*Note: I took great pains to ensure there were NO SPOILERS in this post…I'm not a monster.)
Pay Homage to the Greats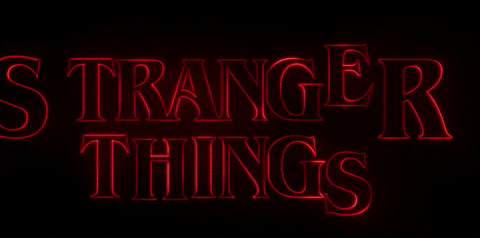 Now, I'm no fan of Stephen King (read: I wonder how anyone can handle clowns).  But I haven't been this excited about a new show since the early days of True Detective (first season, not that garbage they threw at us the second season).
What makes Stranger Things work is simple: It borrows from the best.  There isn't an 80's baby among us who could sit through an episode without smiling at the subtle and sometimes overt references to the show's retro influences.
But that's exactly the point.  Stranger Things doesn't try to be something new – it builds on the success of something old.
Content Marketing Takeaway
In the world of content marketing, the instinct can sometimes be to strike out with something bold and new that the Internet has never seen before.  But, in doing so, we often lose sight of our original goal, which is to not only build momentum with a content program but to sustain growth over the long term.
To keep a content marketing program moving forward, it's important to keep tabs on previously created content to see what's working and what isn't.
At KoMarketing, the content team maintains a shared Google Doc that breaks down content work by client and lists blog post titles, URLs, keywords, dates publishes, etc.  It's nothing particularly fancy, but it lets us know what was created and when, in case we need to refer back to a specific post to evaluate its success.
But it's also important to compare month-over-month and year-over-year metrics for posts in Analytics and reporting.  This allows you to continually identify top-performing blog posts and cater your content program around what you know is working (or, conversely, what isn't).
For one of our larger clients, we noticed a few months back that evergreen content (from two, three, even four years ago) was continuing to improve MoM and YoY.  Having this information in hand led to a recommendation for our client to create CTA banners for these blog posts specifically in an effort to drive website visits and conversions.
Turn Things Upside Down
Stranger Things, to me, seems a lot like one of those fun houses at a roadside carnival – everywhere you look, things are distorted.
It's not just the "Upside Down"/portal where several residents of Hawkins, IN seem to be disappearing – it's also the eerie music and camera angles that give the show its ominous feel overall.
Essentially, Stranger Things drives the point home that imagination is a must when it comes to creating meaningful stories that win over viewers.
Content Marketing Takeaway
In content marketing, imagination is the cornerstone of a successful content program.  With more than 152 million blogs on the Internet today,  you had better make sure your content stands out in some way (or else what's the point in creating it?).
That isn't to say that creativity trumps quality, however.  If, in analyzing the performance of previously created content, you hit on something that performs exceptionally well, you'd be crazy not to figure out ways to repurpose it!
During a content audit for one of our newer clients, we discovered that one blog post in particular was driving more than half of blog traffic overall!  This led to a recommendation to repurpose the post not just annually, as the client had been doing previously, but bi-annually to shore up additional traffic.
Go Back to the Beginning
As mentioned earlier, Stranger Things is a series of twists and turns that, in its own circuitous way, takes you back to the beginning of the story to answer several important questions.
Who is Eleven?  Where is Will?  What, exactly, is happening behind the barbed wire fence?
The beginning of the story, in other words, holds the key to unlocking the show's many mysteries.
Content Marketing Takeaway
While it's true that going back to the drawing board with a content marketing program might not always be the key to success, it is, at the very least, critical for determining the evolution of the program into the future.
What I mean by that is it's important to go back and review the goals and objectives of your content program at set intervals: 3, 6, 9 months, etc.  This gives you the opportunity to evaluate what's changed in the program and, more importantly, WHY it's changed.
Aside from being able to speak to the progression of the program to clients and team members, going back to the beginning also allows you to adjust strategies and tactics as needed to ensure success over the long term.
Final Thoughts
If you haven't yet watched Stranger Things, then the question is: Why haven't you watched Stranger Things?
Step outside your content marketing comfort zone and see how this pop-culture sensation can turn you into a better content marketer.
What are your thoughts on the greatest show on Netflix, Stranger Things?  Can you see the parallels with content marketing?